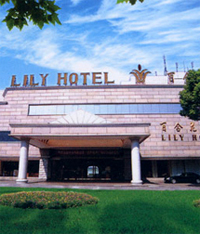 Address:
No.156 Shuguang Road, Hangzhou, China, 310013

Location:
Town Centre: 1km ;Railway Station: 8km ;Airport: 35km ;Port: 1km

Hotel Description:
The Hangzhou Lily Hotel is located on the edge of Hangzhou's famous West Lake. The hotel is an ideal place for business travellers as it provides luxury guestrooms, offices, unique restaurants, spacious and elegant banquet halls along with complete health and recreational facilities. All the 155 guestrooms at the hotel are elegantly decorated and equipped with modern facilities and services. Its beautifully decorated Chinese and Western restaurants not only serve the famous Chinese food, but also offer typical European and American food.
Hotel Video:

Facilities Hotel:
Conference Room; Exhibition Hall; Business Centre; Coffee Shop; Bar; 3 Restaurant; Money Change; Playground for Children; Baby Sitter; Swimming Pool; Jacuzzi, Fitness; Sauna; Solarium; Beauty; Clinic; Massage; Steam Bath; Tennis; Handicap. Facilities; CreditCard; Ticket Agency; Shopping Arcade; Flower Shop; Car Parking; Laundry Service

LOCATION - The Hotel distances from principal landmarks: (distances resulting from the map)
To Hangzhou Botanical Garden about 0.53km,
To Hangzhou Huanglong Sports Center about 0.95km,
To Zhejiang World Trade Center about 1.39km,
To Zhejiang Provincial Museum about 1.48km,
To Su Di Chun Xiao about 1.73km,
To Feilaifeng of Lingyin Temple in Hangzhou about 3.01km,
To Lei Feng Xi Zhao about 3.3km,
To Yan'an Road Wulin Square about 3.46km,
To Western Bus Station about 3.82km,
To The Imperial Grand Canal about 4.69km,
To He Fangjie Wushan Square about 4.76km,
To Chengzhan Train Station about 5.16km,
To Hu Pao Meng Quan about 5.47km,
To Hangzhou Peace International Conference & Exhibition Center about 5.66km,
To Southern Bus Station about 6.02km,
To Si Ji Qing Clothing Market about 6.12km,
To Hangzhou Xixi national wetland park about 6.74km,
To North Bus Station about 6.77km,
To Hangzhou Liu He Pagoda about 6.9km,
To Eastern Bus Station about 7.44km,
To East Railway Station about 8.65km,
To Hangzhou World Leisure Expo Park about 15.66km,
To Zhejiang Sci Tech University about 22.65km,
To Hangzhou Xiaoshan International Airport about 29.61km,

*** Click the link you can find other hotels close to the same landmark

Others China Cities
TOP TEN DESTINATIONS

Hotels in Other Destinations