China Hotels >> Hangzhou Hotels >> Hangzhou Huachen Holiday Hotel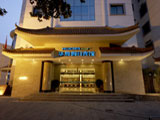 Address:
No. 155 Fengshanmen Road, Hangzhou

Location:
Distance from city center: 2km, distance from railway station: 1.5km, distance from airport: 35km.

Hotel Description:
The Huachen Holiday Hotel under the Huachen Travel Group, opened follow Huachen International Hotel and Huachen Kenzo Hotel Hangzhou.Huachen Holiday Hotel is located at Hangzhou scenic spot, near to Wushan Plaza, Qinghefang Street, Nanshan Bar Street, Leifeng Tower and close to Cheng Railway station. Established in April 20th, 2007, the 6-floor hotel has 99 guestrooms and suites with the Stardard Room measuring 17 square meters. 25 minutes drive from the Xiaoshan International Airport, 100 meters from the Qiantang River Bridge , the hotel surrounded by ample parking spaces, transport facilities, tourist groups and business travelers a place to stay. Elegant and comfortable hotel environment, the air clear, is a breathing, the integration of the ideal vacation and business hotel.
Facilities Hotel:
LOCATION - The Hotel distances from principal landmarks: (distances resulting from the map)
To He Fangjie Wushan Square about 1.75km,
To Southern Bus Station about 1.97km,
To Chengzhan Train Station about 2.49km,
To Lei Feng Xi Zhao about 2.57km,
To Si Ji Qing Clothing Market about 3.23km,
To Su Di Chun Xiao about 3.9km,
To Zhejiang Provincial Museum about 4.02km,
To Hu Pao Meng Quan about 4.35km,
To Hangzhou Liu He Pagoda about 4.95km,
To Yan'an Road Wulin Square about 5.29km,
To Hangzhou Botanical Garden about 5.34km,
To Zhejiang World Trade Center about 5.6km,
To Hangzhou Huanglong Sports Center about 5.93km,
To Feilaifeng of Lingyin Temple in Hangzhou about 6.55km,
To Eastern Bus Station about 6.65km,
To Hangzhou Peace International Conference & Exhibition Center about 7.37km,
To The Imperial Grand Canal about 7.62km,
To East Railway Station about 8.33km,
To Western Bus Station about 8.82km,
To Hangzhou World Leisure Expo Park about 10.2km,
To Hangzhou Xixi national wetland park about 11.22km,
To North Bus Station about 11.77km,
To Zhejiang Sci Tech University about 20.44km,
To Hangzhou Xiaoshan International Airport about 25.58km,

*** Click the link you can find other hotels close to the same landmark

Others China Cities
TOP TEN DESTINATIONS

Hotels in Other Destinations