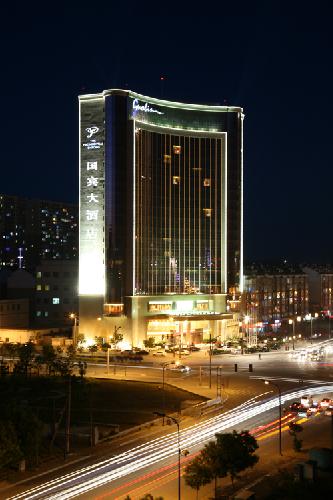 Address:
No.898 Yuhe West Road, Datong

Location:
- 2km to Temple of Guanyu. - 2km to Nine Dragon Screen. - 3km to Drum Tower. - 3km to Royal River Garden. - 4km to Huayan Temple. - 4km(10min to 15min driving) to Datong Railway Station. - 18km(40-min-driving) to Datong Airport. - 19km Yungang Grottoes

Hotel Description:
The Guobin Hotel is located at the juntion of Yuhe West Roand of Datong, within 6-min drive to the railway station, close to Temple of Guanyu, Nine Dragon Screen and Drum Tower. It is 18 kilometers from the Datong Airport. The hotel features 236 guest rooms and suites. The hotel property includes a restaurant, game room, billiards, sauna center, massage center, health spa and fitness room.
Facilities Hotel:
LOCATION - The Hotel distances from principal landmarks: (distances resulting from the map)
To Big West Street about 7.53km,
To Datong Railway Station about 10.39km,
To Datong Yungang Airport about 15.3km,

*** Click the link you can find other hotels close to the same landmark

Others China Cities
TOP TEN DESTINATIONS

Hotels in Other Destinations