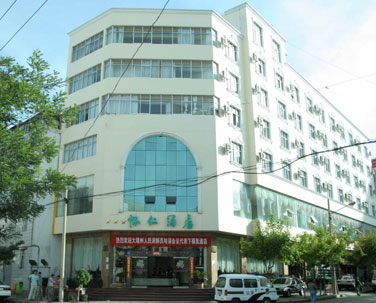 Address:
No.15, Yinping Road, Xiaguan Economic Development Zone, Dali City, Yunan

Location:
It is 2 minutes' driving to Dali railway station, 5 minutes to the downtown, and 13kms to Dali ariport.

Hotel Description:
Huairen Hotel is a 3-star tour and commercial hotel which perfectly combines the hotel room service, restaurant, and commercial conference reception together. It has complete equipment and functions. Located at the prosperous economy developing area of Dali, the hotel has a very convenient transportation. It is adjacent to the Dali quay and the air ticket booking desk of Civil Aviation. Around the hotel there are the National Plaza and the picturesque Erhai Park. The hotel decoration blends the Dali folk customs with modern styles. It has 130 room beds, including Standard Rooms, Single Rooms, and Triple Rooms, etc. Elegantly and cozily decorated, and reasonably designed, the hotel rooms are all equipped with complete facilities such as color TV, air-conditioner, international and domestic telephone call, and water dispenser. Its wooden furniture and luxurious light fixture bring you with a comfortable and easy environment. The hotel theme restaurant owns more than 300 seats, providing Bai minority specialties as the main food. The hotel restaurant also provides banquet service and is the best place for family reunion. The hotel amusement center has all kinds of KTV balconies which are all equipped with advanced acoustics facilities. Except from these, the hotel also provides guests with excellent environment for relaxation such as the massage and foot-bathing service.