China Hotels >> Beijing Hotels >> GreenTree Inn-Lama Temple, Beijing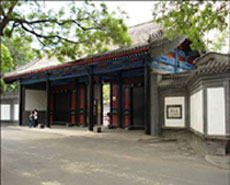 Address:
No.46 Fangjia Hutong,Dongcheng District,Beijing

Location:
27km to Capital airport; 10km to Beijing west railway station and Beijing railway station; 7.5km from tianamen square.

Hotel Description:
GreenTree Inn-Lama Temple is located in 46 Fangjia Hutong,Dongcheng District,adjacent to Yonghe Palace, Confucius Temple, Guozijian.There is the mansion of the third son of Emperor Qianlong, Fang Hutong primary school where Mr. Lao used to be its schoolmaster and modern style bars, restaurants, etc.;The hotel was situated in "Hutongli 798",the cultural and creative neighborhood.There is the central garden, Chinese and Western restaurants, coffee shops, modern dance theater and a number of domestic and foreign well-known large-scale creative workshops, etc. The environment is quiet elegant and unique. The guest rooms are equipped with free internet connection,domestic and international direct dial telephones,satellite TV channels,24 hours' cold and hot water,independent washroom and air-conditionings.
Facilities Hotel:
LOCATION - The Hotel distances from principal landmarks: (distances resulting from the map)
To Beihai Park about 2.83km,
To Beijing North Railway Station or Xizhimen Station about 3.65km,
To Wangfujing Street about 3.99km,
To The Forbidden City about 4.03km,
To China International Exhibition Center about 4.23km,
To Beijing Exhibition Center about 4.6km,
To National Aquatics Center(The Water Cube) about 4.8km,
To Tiananmen Square about 4.91km, Take No.1 subway to Dongdan Station, tranfer No.5 subway to North Xinqiao Station A entrance, toward North walking 100metre to Xifangjia Hutong; It will cost 10RMB and 10minutes by taxi.
To Dongyue Taoist Temple about 4.92km,
To Xidan Business Street about 5.06km,
To Sanlitun Bar Street about 5.14km,
To Dongsi Road about 5.35km,
To The National Stadium(The Bird's Nest) about 5.49km,
To Jianguomenwai Street about 5.73km,
To Beijing Railway Station about 5.85km, Take No.2subway to Lama Temple Station C entrance, toward South walking 150 metre to Xifangjia Hutong; It will cost 30RMB and 25 minutes by taxi.
To Beijing National Agricultural Exhibition Centre about 6.65km,
To The China World Trade Center about 7.02km,
To Beijing South Railway Station about 8.67km,
To Beijing West Station about 8.81km, Take No.1 subway to Dongdan Station, tranfer No.5 subway to North Xinqiao Station A entrance, toward North walking 100metre to Xifang Hutong; It will cost 30RMB and 25 minutes by taxi.
To Grand View Garden about 9.35km,
To Wukesong Indoor Stadium about 10.78km,
To BeiJing NanYuan Airport about 16.01km,
To New China International Exhibition Center(NCIEC) about 18.66km,
To Beijing Capital International Airport about 21.72km, Take subway or Airport Express to Dongzhimen , tranfer No.2 subway to Lama Temple Station, C entrance, toward South walking 150 metre to Xifangjia Hutong; It will cost 60RMB and 30minutes by taxi.
To Badaling Great Wall about 55.4km,

*** Click the link you can find other hotels close to the same landmark

Others China Cities
TOP TEN DESTINATIONS

Hotels in Other Destinations