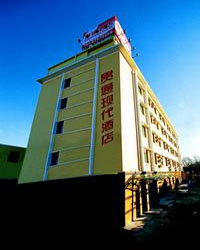 Address:
No.1 Xibanbi Street, Zhushikou, Chongwen District, Beijing

Location:
To Beijing center 0.8 Km (only 2 minutes with car), station 2 km; Beijing airport 26 km; exhibition center:13 km

Hotel Description:
Beijing Guan Tong Modern Hotel is an economical-type hotel with modern decoration and comfortable environment inside. Guan Tong Hotel has 126 guest rooms that can accommodate 250 guests. Guan Tong Hotel has modern public facilities such as Chinese food restaurant, coffee shop, meeting room and business center, etc. At the same time, Guan Tong Hotel offers you with broad-band internet access and usage of computer free of charge for the convenience of the travelers on business. What will make you feel more satisfied is the convenience of business trip in the vicinity and low house rent as well as the modern environment and the standard service of Guan Tong Hotel. Guan Tong Hotel will become the most ideal place to stay when you come to Beijing on business trip. Guan Tong Modern Hotel introduced Modern International Service Management and pursued ISO9001(International Standardization Organization 9001): ISO14001 Environment Management Standard as well as 2000 Quality management system. Guan Tong Modern Hotel put the service of standardization, the service of procedure, the service of normal management and the service of green environment protection into effect.
Hotel Video:

Facilities Hotel:
You can use the computer free in the coffee shop for the convenience of all transaction of business. Also you can get brand-band Internet access for information, receiving and dispatching E-mail, sending feedback information to the outside.Guan Tong Hotel also provides all the house information for you. In order to meet the needs of businessman, we offer you with printer (print-machine), fax-machine, laundry, and morning call service and so on. You can also find hair-drier, electric iron, Majiang table. And you can get general merchandise here.

LOCATION - The Hotel distances from principal landmarks: (distances resulting from the map)
To Tianqiao Acrobatics Theatre about 0.73km,
To Museum of Natural History about 1.1km,
To Temple of Heaven about 1.14km,
To Huguang Peking Opera Theatre about 1.29km,
To The Memorial Hall of Chairman Mao about 1.31km,
To National Museum of China about 1.6km,
To Tiananmen Square about 1.71km,
To Zhengyici Peking Opera Theatre about 1.8km,
To Beijing South Railway Station about 2.28km,
To Beijing Concert Hall about 2.48km,
To The Forbidden City about 2.58km,
To Beijing Railway Station about 2.61km,
To Zhongnanhai about 2.79km,
To Xidan Business Street about 2.82km,
To Wangfujing Street about 3.01km,
To Jingshan Park about 3.73km,
To Jianguomenwai Street about 3.74km,
To Beihai Park about 3.94km,
To silk market beijing about 3.99km,
To The National Art Museum about 4.18km,
To Grand View Garden about 4.19km,
To Hou Hai Bar Street about 5.2km,
To Shichahai Lakes about 5.36km,
To Dongyue Taoist Temple about 5.42km,
To The China World Trade Center about 5.54km,
To Bell and Drum Towers about 5.56km,
To Beijing Capital Museum about 5.61km,
To Temple of Confucius about 6.11km,
To Yonghe Lamasery (Lama Temple) about 6.34km,
To Beijing Planetarium about 6.41km,
To Chaoyang Theatre Acrobatics Show about 6.44km,
To Beijing West Station about 6.67km,
To Beijing North Railway Station or Xizhimen Station about 6.69km,
To Beijing Exhibition Center about 7.23km,
To Sanlitun Bar Street about 7.34km,
To Dongsi Road about 7.35km,
To Bejing Zoo & Aquarium about 7.73km,
To Happy Valley Amusement Park about 8.11km,
To Beijing National Agricultural Exhibition Centre about 8.81km,
To China International Exhibition Center about 8.82km,
To BeiJing NanYuan Airport about 9.41km,
To Da Du Bar Street about 9.73km,
To Traditional Chinese Medicine Museum about 9.81km,
To Wukesong Indoor Stadium about 10.35km,
To National Aquatics Center(The Water Cube) about 11.41km,
To The National Stadium(The Bird's Nest) about 12.09km,
To Beijing 798 Art Zone about 13.3km,
To Yuanmingyuan Old Summer Palace about 15.82km,
To Summer Palace about 16.25km,
To Fragrant Hills Park (Xiangshan Park) about 21.77km,
To New China International Exhibition Center(NCIEC) about 23.75km,
To Beijing Capital International Airport about 26.31km,
To Ming Tombs about 43.18km,
To Badaling Great Wall about 60.98km,

*** Click the link you can find other hotels close to the same landmark

Others China Cities
TOP TEN DESTINATIONS

Hotels in Other Destinations