China Hotels >> Beijing Hotels >> Beijing Spring Hotel Yanqing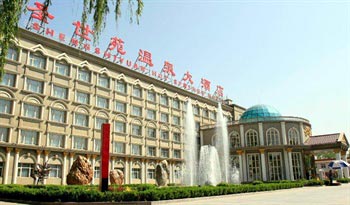 Address:
Dongwai Avenue 69, Yanqing, Beijing

Location:
- 75 km to the railway station; - 70 km to Capital Airport.

Hotel Description:
Shengshiyuan Hotspring Hotel is a deluxe tourism hotel, covering 37,000 square meters. This European-style hotel provides 200 rooms and suites, various meeting rooms holding 20-1200 persons, 30 banquet halls serving Sichuan, Cantonese, Shandong cuisines and seafood. The hotel also provides fully recreation facilities, giving your a relax.
Facilities Hotel:
LOCATION - The Hotel distances from principal landmarks: (distances resulting from the map)
To Badaling Great Wall about 12.68km,
To Ming Tombs about 30.39km,
To Fragrant Hills Park (Xiangshan Park) about 55.03km,
To Yuanmingyuan Old Summer Palace about 56.95km,
To Summer Palace about 57.05km,
To The National Stadium(The Bird's Nest) about 61.75km,
To National Aquatics Center(The Water Cube) about 62.48km,
To New China International Exhibition Center(NCIEC) about 64.51km,
To Da Du Bar Street about 65.04km,
To Bejing Zoo & Aquarium about 65.33km,
To Beijing Exhibition Center about 65.58km,
To Traditional Chinese Medicine Museum about 65.74km,
To Beijing North Railway Station or Xizhimen Station about 65.98km,
To Wukesong Indoor Stadium about 66.26km,
To Beijing Planetarium about 66.3km,
To Beijing Capital International Airport about 66.97km,
To Bell and Drum Towers about 67.45km,
To Shichahai Lakes about 67.55km,
To Beijing 798 Art Zone about 67.7km,
To Yonghe Lamasery (Lama Temple) about 67.75km,
To Temple of Confucius about 67.79km,
To China International Exhibition Center about 67.82km,
To Hou Hai Bar Street about 67.84km,
To Beijing Capital Museum about 68.79km,
To Beihai Park about 68.86km,
To Jingshan Park about 69.09km,
To Beijing West Station about 69.19km,
To The National Art Museum about 69.52km,
To Zhongnanhai about 69.87km,
To Xidan Business Street about 69.98km,
To The Forbidden City about 70.31km,
To Beijing Concert Hall about 70.36km,
To Sanlitun Bar Street about 70.4km,
To Dongsi Road about 70.62km,
To Wangfujing Street about 70.69km,
To Beijing National Agricultural Exhibition Centre about 70.89km,
To National Museum of China about 71.04km,
To Tiananmen Square about 71.09km,
To Zhengyici Peking Opera Theatre about 71.21km,
To Dongyue Taoist Temple about 71.3km,
To The Memorial Hall of Chairman Mao about 71.33km,
To Huguang Peking Opera Theatre about 72.22km,
To Chaoyang Theatre Acrobatics Show about 72.36km,
To Jianguomenwai Street about 72.5km,
To silk market beijing about 72.56km,
To Beijing Railway Station about 72.61km,
To Grand View Garden about 72.87km,
To Tianqiao Acrobatics Theatre about 73.21km,
To Museum of Natural History about 73.32km,
To The China World Trade Center about 73.48km,
To Temple of Heaven about 73.77km,
To Beijing South Railway Station about 73.93km,
To Happy Valley Amusement Park about 78.85km,
To BeiJing NanYuan Airport about 80.84km,

*** Click the link you can find other hotels close to the same landmark

Others China Cities
TOP TEN DESTINATIONS

Hotels in Other Destinations