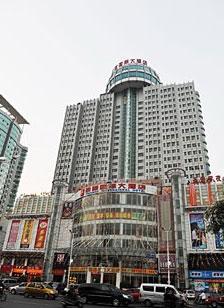 Address:
NO.58 Middle Beibuwan Road, Beihai, Guangxi.

Location:
Distance from the airport: 25km Distance from Beihai Railway station: 3km Distance from downtown: 0km Distance from Beihai silver beach:5km

Hotel Description:
Vienna International Hotel—Beihai (Triumph International Commerce Hotel) is a 5-star hotel situated at the northeast side of Beihai Central Square. With a building area of 63, 000sm and 168 meters at height, it is the highest building in Beihai. The hotel has 533 guest rooms in various types. On the top floor there are multi-functional hall and academic report hall, making the hotel an ideal place for conference, business affairs, and activities such as holding ceremony, cocktail party, press release, and exhibition, etc. Apart from that, the hotel is also equipped with gymnastic, sauna, and body build facilities. Stay at Vienna International Hotel—Beihai allows you to experience the oriental considerate and hospitable service. The hotel, with a full set of facilities and luxury decoration, is a brilliant pearl shining over the South Sea of China.